My dad is an amazing woodworker, among other things!  I will send him a picture of something I would like and Shazam! – he makes it and it is way better than the original picture I sent.  This is a cutting board he made to go on the turn of my counters.
He made a list of all the woods that are used in it and the meaning they have.
He has made things for so many people including me, my sister and all of his grandkids. Be sure to check out his website.  He tells stories about all of his projects. http://www.russellscholta.com/woodworking-in-small-home-shops.html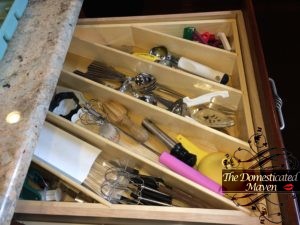 Check out these inserts for the drawers in my island.  These fit so perfectly that they can never be removed.  This is a clever design and makes it so easy to organize all of my cooking doo-dads!
Meet my Garrus & Tali. This is on the 4th of July 2015. Tali was just a baby. I made these adorable collars so they would be ready to walk in our town's parade. I just tied strips of tulle & fabric to their collars. I love living in a small town.