Hands down my FAVORITE drink!!! If you didn't know, blood oranges are a seasonal fruit available between January and March.  So right now is the season!  We found our first bags of blood oranges last week.  You can buy blood orange juice, but it tends to be pricey.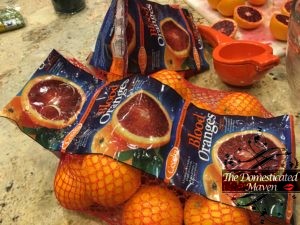 We fresh squeeze 3 to 4 bags at a time and freeze the juice.  We freeze enough juice so that we can have margaritas well into the summer.  It is a sad day when the juice runs out.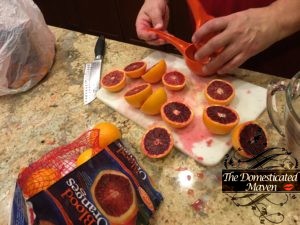 Recipe
3 ozs. tequila (which ever tequila you like best)
2 ozs. grand mariner
3 ozs. simple syrup (1 c. water & 1 c. sugar)
2 ozs. fresh lime juice
3 ozs. blood orange juice
Put everything in a cocktail shaker and shake it up.
Rim the glasses in sugars crystals using lime – we use Wilton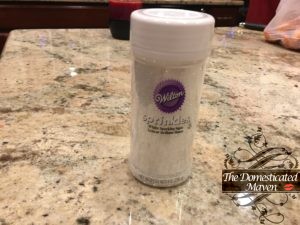 Fill the glass with ice and pour in the beautiful margarita.  Squeeze in lime juice and garnish with the lime.
Enjoy!
My grandma Grace made these delicious peanut bars.  The recipe is from her mother in law, my great-grandma Scholta.  My dad and I would make these bars at Christmas.  Now, my son and I make them on New Year's Eve.  It takes two people to finish them.  They are very messy to make but totally worth it!
Bear with me as I interpret the recipe from grandma Grace's hand written cards.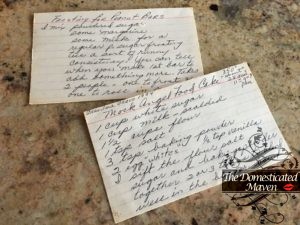 Start with the Mock Angel Food Cake
1 c. white sugar
1 c. scalded milk
1 1/2 c. flour
1 tsp. salt
3 tsp. baking powder
2 egg whites
1/2 tsp. vanilla
These are grandma's instructions:
I sift the flour, salt, sugar, and baking powder together 2 or 3 times to blend well in the bigger bowl.  I put milk on to heat while I beat the two egg whites (use a hand beater) to near peaks (not dry).  When milk is bubbly on the edge it is ready.  Add milk and vanilla to four mixture until just mixed, do not beat, just stir well.  Add egg whites and fold into mixture.  Do not beat or use a mixer.  Dough will be kinda foamy.
Pour into a greased 9X13 pan.  Bake at 350 degrees for about 25 minutes.  Makes 18 bars.
Frosting for the Peanut Bars
Grandma says, "I mix powdered sugar, some butter and some milk for a regular powdered sugar frosting till sort of a runny consistency!
Here is what I do:
Melt 1/2 c. (0ne stick) butter.  I then add powdered sugar and milk until a have the runny consistency and the frosting doesn't taste too buttery.  You will need quite a bit to do all 18 bars.
Finely chop a jar of unsalted peanuts.
Put the frosting in a shallow dish and the peanuts another shallow dish.  Pie plates work great for this!
This is where the messy comes in!  You will need two people to finish the bars.
One person will need to roll the bars in the frosting.  Place the frosted bar in the peanuts and the 2nd person rolls the bar to cover with peanuts.  Put the bars on waxed paper to set.
Grandma has noted on her card – Grandpa rolls them in peanuts.  And does tasting!  I love all of her sweet notes on my recipe cards!
I love, love these peanut bars for so many reasons.  They are wonderful with a big glass of milk, but mostly I love them because of all the great memories I have of making them with my grandma.
Enjoy!