Apple Cranberry Pie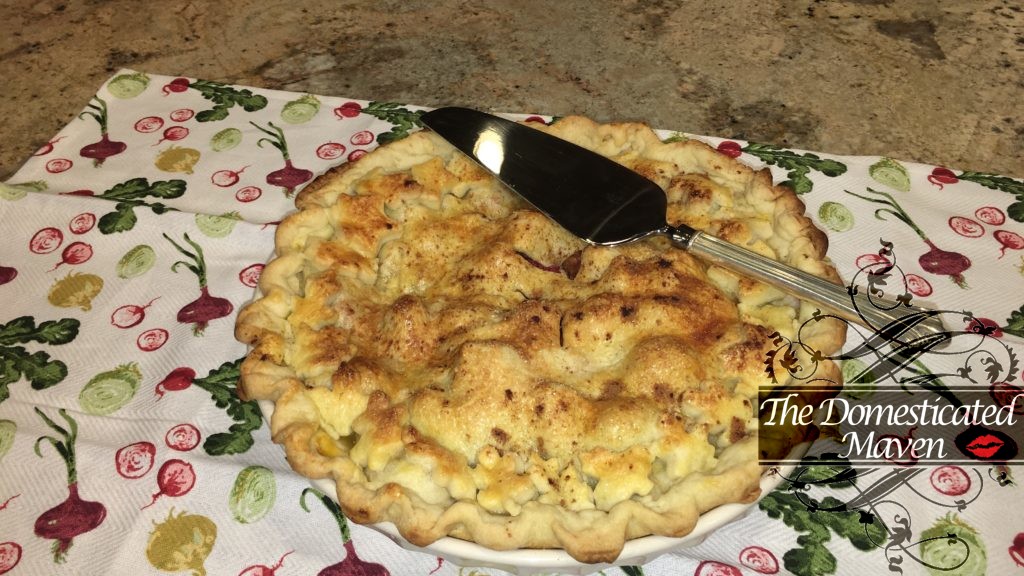 I have been making this pie for years!  There are homes I'm not allowed to enter if I don't have this pie with me.  I buy pie plates at Goodwill so that I can just leave the plate.  Sometimes I get them back, sometimes I don't – it just doesn't matter!!  I love cooking and baking for my friends.
APPLE CRANBERRY PIE
You will need pastry for a 9″ two-crust pie.  You can buy the frozen pie crust, but trust me when I tell you pie crust is SO easy to make.  Here is the recipe I use and it has never let me down.
PIE CRUST
2 1/4 c. flour
1 tsp. sugar
1/4 tsp. kosher salt
1 c. cold butter, cut into pieces
Combine the flour, sugar and salt in the bowl of the food processor and give it a quick pulse to blend the ingredients. Add the butter and pulse until the mixture is crumbly.  Add 6 tbsp. ice cold water and pulse until mixed.  Divide the dough in half, shape each half into a ball and flatten to a disc. Wrap each disc in plastic wrap and let the dough rest for 30 minutes to relax the gluten.
PIE FILLING
3/4 c. brown sugar
1/4 c. sugar
1/2 c. flour
1 tsp. cinnamon
4 c. sliced Granny Smith apples
2. cranberries – whole
2 T. butter
Preheat oven to 425 degrees.  In a large bowl, combine sugars, flour & cinnamon.  Add fruit and mix well.  Pour into a pastry lined pie plate.  Dot the tops with butter.  Cover with pastry and cut slits in the top crust.  Seal the edges.  I like to use tiny cookie cutters to cut holiday themed  designs out of left over pie crust and decorate the edges of the pie.  Brush an egg wash over the crust and sprinkle with cinnamon sugar.  (I use a pie shield on the edges of the pie for the first 30 minutes of baking.  Keeps the edges from getting too brown.)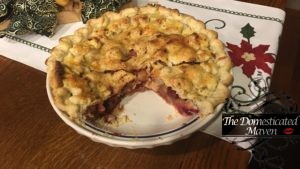 Serve with vanilla ice cream or whipped cream.

Enjoy!

Posted on: November 17, 2016, by : admin