Great Grandma Scholta's Lemon Meringue Pie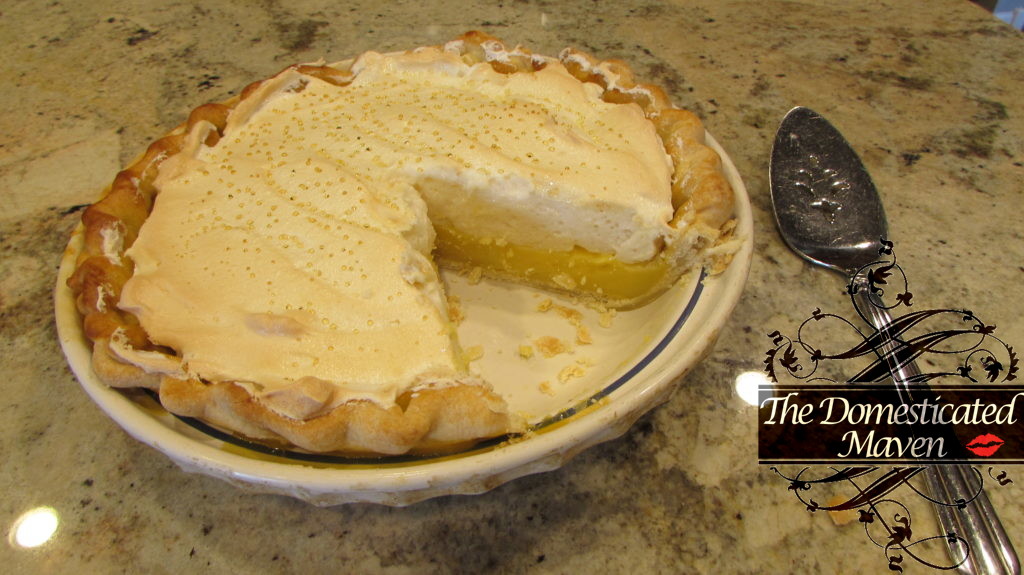 This is one of the many things I remember my Great Grandma Scholta making and it was my favorite.  My great grandparents lived in Loman Minnesota.  Loman sits right on the Canadian border.  It is a teeny town, but there is a great deal of love, friendship and, for me, family in that teeny town.  My great grandparents, Norman & Veda, were farmers in a time when there were no modern conveniences, winters were harsh and snowy, summers were hot, humid and buggy!  They were wonderful people who cared deeply for their family and friends.
I loved visiting Loman when I was a kid.  I had family all up and down the road.  My aunt Ruth was the postmaster. Her house sits right next to the post office – her son still owns it and I stay there when I visit.  Staying there brings back such sweet memories of mornings in Aunt Ruth's kitchen.  She and my grandma, in their bathrobes, drinking coffee and laughing – or as my cousin Dennis would describe it, cackling!  I know they're are in heaven together doing just this!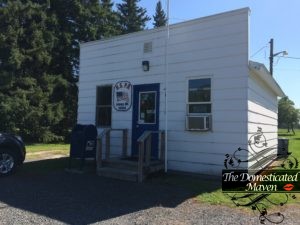 It took me awhile to perfect my Great Grandma's lemon meringue pie recipe. The first version of the recipe was in my Grandma Grace's handwriting and the measurements were a little bit of this and a little bit of that.  Fortunately one of my cousins published it in the Bethany Lutheran Church Recipes and Remembrances cookbook.  Bethany Lutheran is the only church in Loman and everyone goes there!!  My great grandfather helped build it, my grandparents were the first couple married there and my great grandma took care of everyone who went there.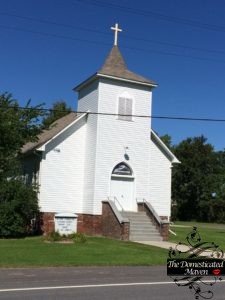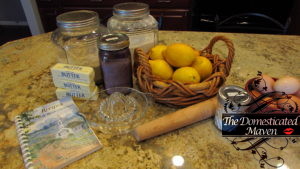 PIE CRUST

Preheat the oven to 400 degrees.

Put the following in a food processor:

2 1/4 cup flour
1 tsp. sugar
1/4 tsp. kosher salt

Pulse until mixed.

Then add 1 cup cold butter cut into small cubes.

Pulse until crumbly.  Add 6 T. cold water and mix until the dough comes together.

Roll the dough into a ball and refrigerate for 30 minutes.  This helps relax the gluten and makes the dough easier to roll out.

Roll out the dough and put in a pie plate and crimp the edges.  Use a fork to pierce the bottom of the pie.  Place two sheets of aluminum foil over the pie crust and fill with pie weights

or beans.  Bake for 10 minutes.  Remove the foil and weights/beans and continue to cook for an additional 6 minutes.  I put a pie shield on the edges during the second half so the edges don't get too brown.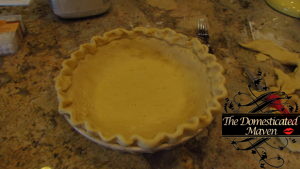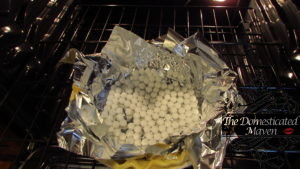 This recipe makes enough dough for a two crust pie.  You can divide the dough and freeze half for your next pie.
FILLING
1 1/4 c. sugar
1/8 tsp. salt
6-8 T. cornstarch
1/4 c. butter
3 egg yokes (save the whites for the meringue)
1/2 c. lemon juice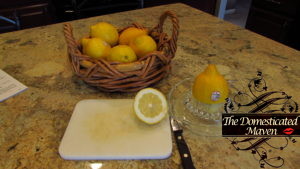 Mix sugar, salt and cornstarch.  Boil 2 cups water, add the dry ingredients and cook over medium high heat until thickened.  Start with 6 T of cornstarch, if the liquid doesn't thicken add more cornstarch one tablespoon at a time.  Once thickened, turn to simmer and cook for 10 minutes.  Temper the egg yokes by adding 3 tablespoons of the hot liquid to the egg yokes one tablespoon as a time stirring as you add, this keeps the eggs from cooking.  Add the butter to the hot liquid and let melt.  Gradually stir in the egg yokes and lemon juice.  This filling should be thick, almost custard like.  Bake at 400 degrees for 10 minutes, I use the pie shield on the crust.
MERINGUE
While the filling is baking, make the meringue.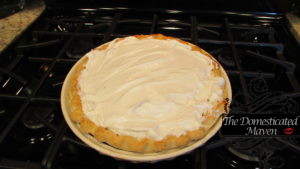 Beat 5 eggs whites with 6 tablespoons of sugar and 1 tsp. lemon juice.  Beat on high until there are stiff peaks.  When the pie comes out of the oven, reduce the oven temperature to 325 degrees.  Pile the meringue lightly on the pie, spread to the edges and bake until the top is lightly brown.  P.S. Some people say meringue shouldn't bead, but I'm here to tell you it does.  Great-grandma's meringue always had beads on it, so I know that is what is supposed to happen!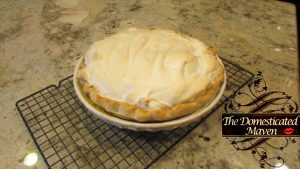 I hope you love this pie as much as I do.

ENJOY!!

Posted on: September 25, 2016, by : The Domesticated Maven