Displaying our Dickens Village each year is quite a chore.  A few years ago we decided that it should be displayed above our kitchen cabinets. It looks beautiful there, but it's no easy feat to get it there.  The one good thing that comes of all of this work is that the tops of my cabinets get a good cleaning at least once a year.  Judging from how dusty and grimy everything is I could probably do it more that once a year, but I doubt that's going to happen!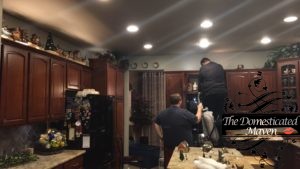 Scott & Cameron are vacuuming and getting the top of the cabinet ready.  I get to wash all the grimy stuff!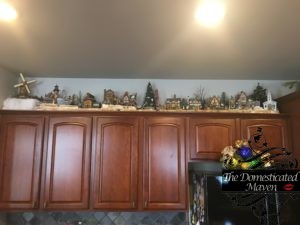 My grandma Grace had so many talents!!  One of them was knitting.  She made sweaters for us when we were little.  Grandma made us personalized Christmas stockings.  I can't image the time she put into making these.  I love pulling these out every year knowing that this was a very special gift she made for each of us.
I know most sane people have one, possibly two Christmas trees in their homes.  I think we all know that I am not sane when it comes to Christmas.  I HAVE FIVE TREES!!!  The tree here is the tree in my family room, the one I look at the most.  It holds my dearest ornaments, the ones that have years of memories attached.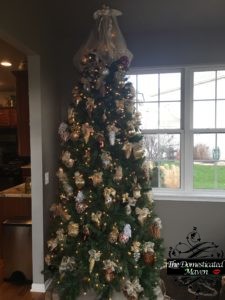 The tree in my sunroom has a pine cone theme.  These beautiful glass ornaments are magical to me.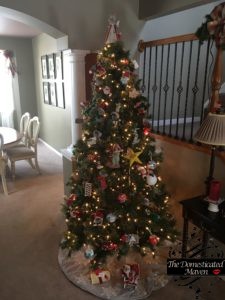 My Annalee tree holds the my collection of grey Annalee mice.  My Aunt Sue started this collection for me when I was in high school.  I now look for grey Annalees to add to my collection.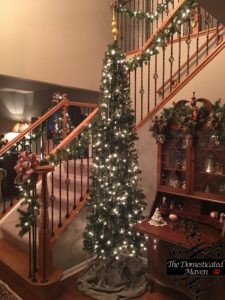 The tree in my foyer is decked with ornaments I made with mirrors, beads and crystals.  Bright and shiny!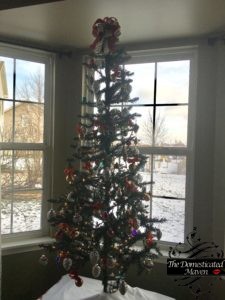 I have a bay window in my dining room that is the perfect spot for a small tree.  This little tree sits on my Gran's tea cart and brightens up this space.
So, if you only have one tree, maybe you should think about upping the ante!!