I LOVE my French rolling pin. For years I used my Grandma Grace's rolling pin, that she gave me.  It was the rolling pin she & I used to roll cookies when I was a little girl.  While her rolling pin holds so many sweet memories, my French rolling pin is "the bomb!"  It makes rolling cookies, bread dough and everything so much easier. If you have never tried one, I encourage you to get one.  You will love it.
My grandma's rolling pin and her recipe box with recipes in her handwriting.  These things are two of the most precious items I have.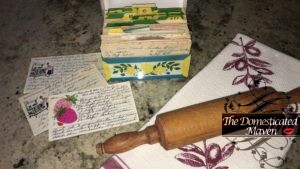 I hosted a surprise 16th birthday party for a young lady in my youth group.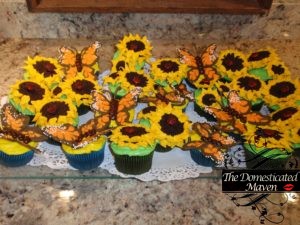 Instead of cake, I made flower cookies and cupcakes.  They were so cute and so much fun to make.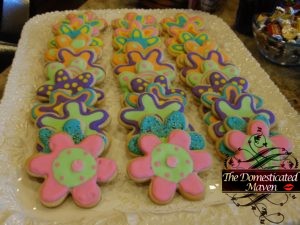 These are my "go to" cookies.  They are so easy to make, I don't even have to haul out the KitchenAid and you can customize them to your taste or what you have in your cupboard!  The boys who hang out here have never had any complaints!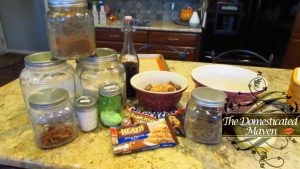 Preheat the oven to 350 degrees.
1 cup melted butter
1 1/2 cups white sugar
3/4 cup brown sugar
2 tsp. vanilla
2 tsp. baking soda
1 tsp. salt
2 beaten eggs
3 cups flour
2 cups chips (anything you have – I like Snicker bits, Heath bits & chocolate chunks)
2 cups chopped nuts (again, it is anything you prefer)
Melt the butter. When the butter has cooled a bit, mix in the white sugar and the brown sugar.  Add vanilla, baking soda, and salt.  Add the eggs and stir.  Stir in the flour then add the chips and nuts.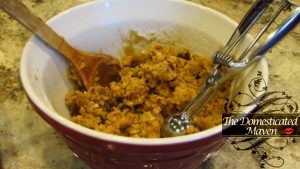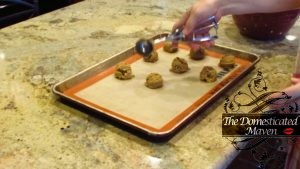 Drop onto a greased cookie sheets – I prefer using a Silpat mat!  Bake at 350 degrees for 9 to 11 minutes.  Don't over bake.  Let cool then move to a wire rack to finish cooling.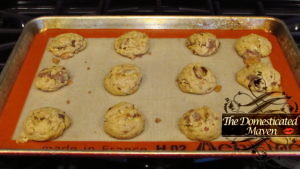 Makes about four (4) dozen cookies.
ENJOY!!  These boys did!!